Dr Geoff Alley (Chiropractor)
Staying in the Game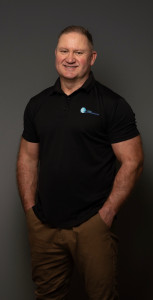 Dr Geoff experienced a serious low back injury while playing rugby. He tried all the mainstream medical options without finding any relief. He then went to a chiropractor and was able to get back to playing. Dr Geoff took a rugby scholarship to Palmer College of Chiropractic in the US and graduated in 1999.
A Wide Range of Techniques
Dr Geoff utilises various techniques to suit his patients' needs. He focuses on Sacro-Occipital Technique (SOT) and the Gonstead technique. He also incorporates muscle flexibility and core strength into his health and wellness plan. Dr Geoff has a special interest in sports chiropractic. From social walkers to Olympic athletes, different types of patients have found a great benefit in their care with Dr Geoff. Dr Geoff is also proficient in turning breech presentation babies by using the Webster Technique. Many expectant mums seek Dr Geoff's expertise to help them have successful pregnancies.
He is also able to give regular wellness
checks to newborn babies.
Staying Informed
Dr Geoff combines his love of sports, coaching, health and wellness and keeps the general public informed with articles via his professional Facebook page and LinkedIn page.
Staying Active
Dr Geoff has been married to Kelly for 29 years. They have four children: Samantha, Grace, Olivia and Charlie and three grandchildren. Outside of work, Dr Geoff loves boating and fishing and is an avid follower of horse racing, owning a share in a two year old thoroughbred filly. He is a former International Rugby Union coach and Dr Geoff is also a former International Rugby Union player having represented NZ at 7s and USA at 15s. Dr Geoff runs the #Tough50 Transformational challenge for Men aged Over 50.
Dr Geoff Alley | (09) 478 6578