Acupuncture on the North Shore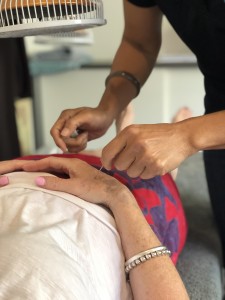 As one aspect of Chinese Medicine and may be used alone or in conjunction with other natural therapies, acupuncture is a holistic technique that balances the energy in the body and helps the body to be more resilient by inserting and manipulating fine needles into specific points on the body to achieve the relief of the pain and the improvement of the general health conditions.
While it can treat musculo-skeletal injuries, it benefits a variety of disorders which can extend to a wide variety of conditions, from emotional disorders (anxiety, depression) to digestive complaints (nausea, vomiting, irritable bowel syndrome), infertility, insomnia, menopause, high blood pressure, stress etc. as well.
Only sterile disposable needles are used to ensure the safety of the customers.
Services provided
Traditional Chinese Acupuncture
Cupping
Tui Na
Ear seeding
Blood letting
Moxibustion
Dietary and lifestyle advice
Our Acupuncturist
Our acupuncturist is Helen (Zhixia) Hou, she holds a BHSc of Acupuncture, is an ACC treatment Provider and a member of NZASA & NZCMAS.
Want to Learn More?
Contact us for an appointment.
CONTACT US
---
Acupuncture North Shore | (09) 478 6578