Massage Therapy
Our massage therapist is Yolande.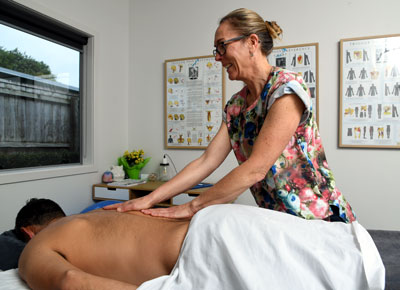 Yolande gained her Diploma in Massage Therapy in 2000 from The Canterbury College of Natural Medicine. In Christchurch she had a busy Massage room in the old Clarendon Tower Health Club before moving to Torbay with her family.
She has a very broad range of interests in Massage and is constantly reading and attending courses to learn more. Yolande is a great believer in integrating Massage into your life as an intervention rather than an expense.
Benefits of Massage (a few of its many benefits)
Improve recovery from repetitive issues and soft tissue injuries
Relieve muscle tension to increase mobility and flexibility
Helps to eliminate toxins from the body by increasing blood flow to areas
Can reduce physical and emotional tensions
Helps bring you back to the present with mind and body
Techniques
Yolande incorporates different Massage techniques to create a session specific to the individuals needs at the time and moving forward. Her aim is always to help the client get the very best out of their body by reducing restrictions. From her 'tool box' she will create a session from the following techniques;
Therapeutic Massage – using knowledge of the body and massage techniques to reduce pain, restrictions, adhesions and the like to get the body moving freely and comfortably
Deep Tissue Massage – using techniques to access deeper areas of restriction and discomfort using massage, trigger points and friction
Sports Massage – helping pre event to reduce injury chances and post to aid in recovery
Myofascial Release – this is one of my passions! Sinking into the 3D web of the fascia that allows our body to slide and glide, provides our shape and allows the body systems to communicate. It is so fascinating throughout our body from head to toe. It just provides a WOW factor to understanding the body and its tensegrity. Once the body loses its slide and glide ability in an area due to injury, repetitive poor posture and even stress it affects how our body functions. Clients really do benefit from the 'unravelling' sensations they experience
A member of Massage New Zealand Yolande is an Easy Claim provider with Southern Cross. If you have Southern Cross Wellbeing One or Wellbeing Two and the Body Care Module then Yolande can assist you with a claim.
Contact Us
There are Massage vouchers available from reception and Yolande is also available outside the normal clinic hours and looks forward to meeting you.
CONTACT US

---
Massage Therapy North Shore | (09) 478 6578